GIB is actively involved in ACGT (Advancing Clinico-Genomic Trials on Cancer), a project funded by the European Commission to develop new methods and tools for clinical trials in the after genome age. 25 partners from 13 countries participates in the project, in which we have led research into new models of databases and the semantic interoperability of clinical databases, microarray and images. As a result of this work has been a semantic mediator and a cancer ontology.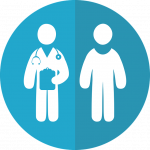 Years after working on ACGT (Advanced Clinic-Genomic Trials on cancer), the objective of our FP7 INTEGRATE and EURECA projects is to advance research in oncology through a unique accessible biomedical infrastructure integrating diverse datasets, building predictive bionetworks and offering advanced tools to guide diagnosis and therapeutics. Based on multi-centric clinical trials programmes on breast cancer and other oncology domains, those projects exploit a collaborative environment to combine multi-scale biomarkers (from genetic level to tissue level including imaging biomarkers) to define a methodology to improve the prognostic power of practices for assessing modern therapies in cancer treatment. Working together with partners such as Philips and various leading oncology centers from Europe, we aim to develop a new framework for future clinical trials.

The main objective of the project is the creation of centres of excellence to promote health research, education and practice in Africa. The creation of these centres will be based on four main pillars: e-learning, knowledge sharing, "know-how" and information technologies. More...

"Tratamiento 2.0" is a project lead by the enterprise INDRA in which take part the Biomedical Informatics Group (GIB). More...